It's summer time and it is particularly hot this year. In order to cool off, I tend to drink tons of water and eat ice cream. But I've grown tired of ice cream. It's hard to believe, right? I mean, unless you don't care for it in the first place, who honestly gets sick of ice cream? I couldn't make sense of what I was saying until I thought about cool, creamy alternatives that are just as delicious in the summer. One of the first things that came to mind was Key Lime Pie.
Being the specific breed of Elle that I am, I often think things are more complicated than they really are and the recipe for Key Lime Pie was no exception. Here I was thinking that I'd have to make a curd filling and pray to goodness that it doesn't come out grainy. Uh huh. Turns out this is one of the easiest recipes on the planet. I got my recipe from
epicurious.com
and added my own twists (of course). The ingredients go something like this:
For crust:
1 1/4 cups graham cracker crumbs from 9 (2 1/4-inch by 4 3/4-inch) crackers
2 tablespoons sugar
5 tablespoons unsalted butter, melted
For filling:
1 (14-ounce) can sweetened condensed milk
4 large egg yolks1/2 cup plus 2 tablespoons fresh or bottled Key lime juice (if using bottled, preferably Manhattan brand)
For topping:
3/4 cup chilled heavy cream
2 Tbsp powdered sugar
Super simple. Now, remember just a few minutes ago when I mentioned that I like to make things complicated? It's true! And I'll prove it.
While I was in the grocery store, it came time to make a decision- fresh squeezed or bottled? It was $6 for a bottle of key lime juice or $2.99 per pound of key limes. Like any glutton for punishment, I chose to pick up 2 lbs of key limes and squeeze them myself. I will say that it was totally worth it. That way I could also use the zest of the key limes as well as save a few for garnish. Admittedly, my hands hurt. I used a wooden reamer and a fine mesh strainer. I also discovered another way to dull my favorite chef's knife. This can be accomplished by slicing 2 lbs. of key limes in half. Oh! And did you know key limes have seeds? I didn't. Or at least I didn't remember them having seeds. I'm so used to our little seedless limes that it really threw me off.
Below are some pictures I took of the Great Key Lime Massacre of July 2010 and the end result:
2 pounds of key limes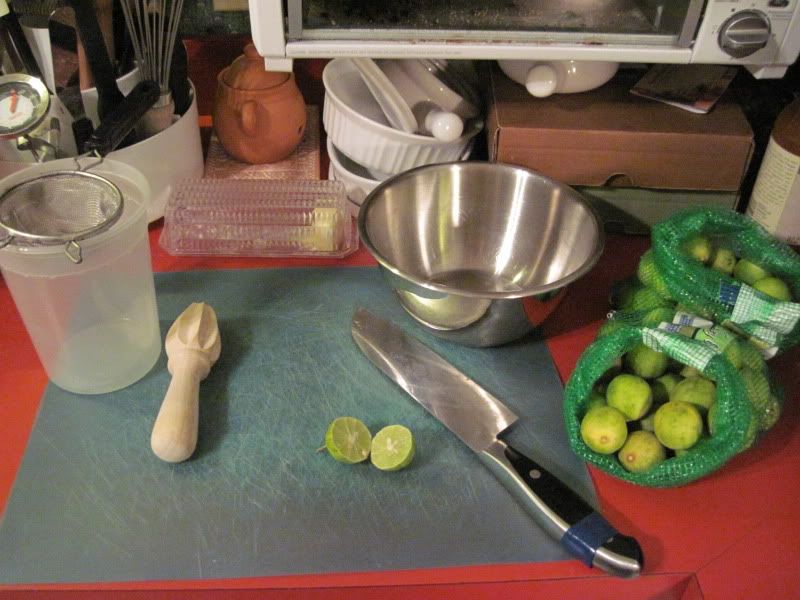 Let the massacre begin!
The aftermath...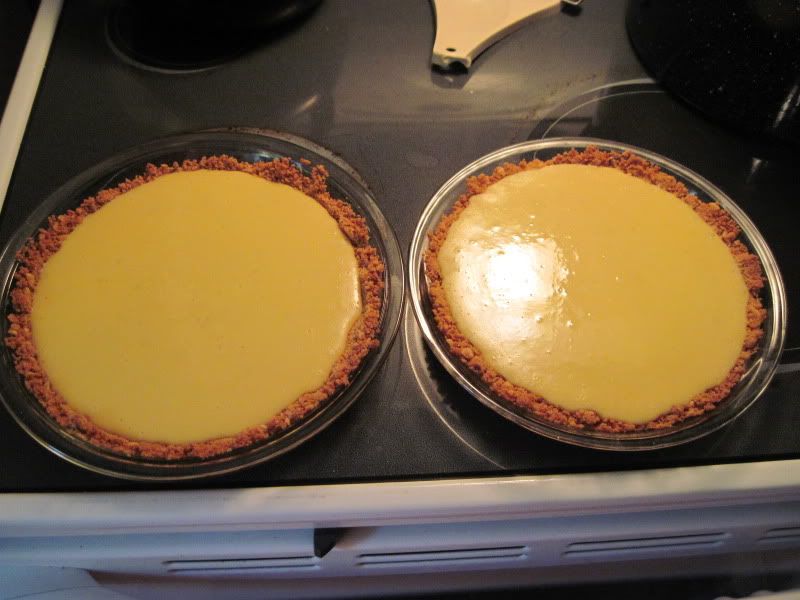 The recipe makes 1 pie. I doubled the recipe to make 2; one for dessert this week and one to be frozen for later use.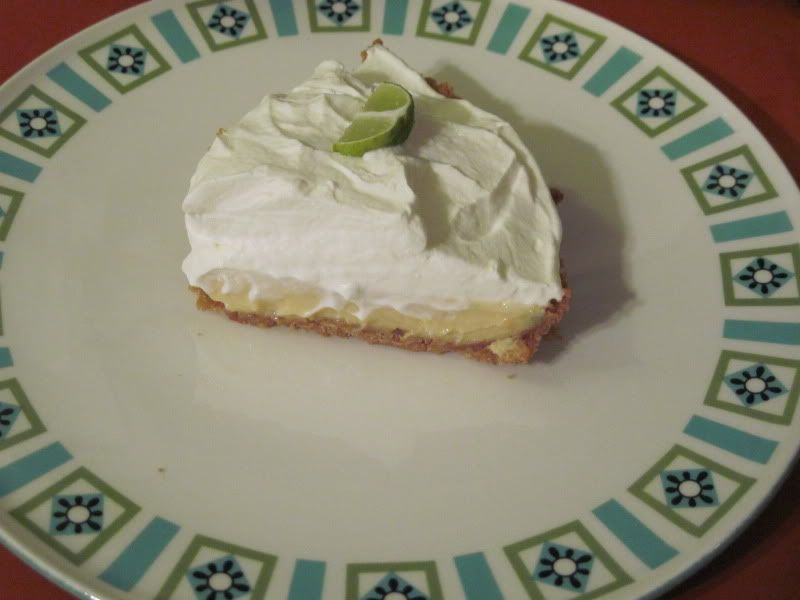 The end result!
A few suggestions:
I chose to simply spread the whipped cream on top of the pie. You can also pipe the whipped cream on and make it a little more decorative if you'd like.
I highly recommend adding about a teaspoon or two of the zest if you can. I personally feel that it brings out the actual lime flavor rather than just tartness.
These pies can easily be frozen and saved for a potluck, a welcome to the neighborhood gift, or just another nightly dessert.
There is no shame in eating it frozen!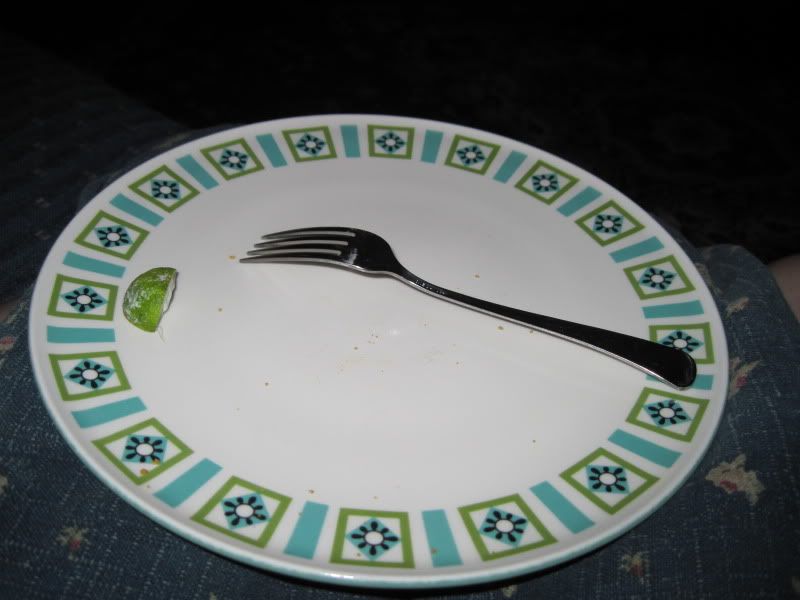 The End.