Ladies, I'd like to introduce you to a culinary dreamboat. He's tall, dark, and handsome. He has the most intense eyes that still have a softness to them. He's a tattooed bad-ass who rides a motorcycle. He's a big ole flirt. And more importantly, he is a world class pastry chef. I present,
Johnny Iuzzini
: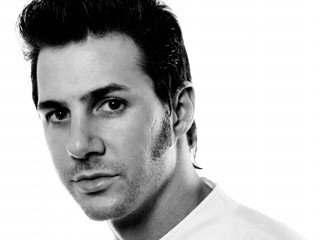 Isn't he just wonderful? So he might not be everyone's type, but he sure does it for me.
He has a book out called "
Dessert Fourplay
" (released in 2008). It is his first and long awaited cookbook. I will hopefully be adding it to my collection soon. In this collection of recipes, he shows us complimentary flavors and a variety of textures to create a quartet of mini desserts that are meant to be served together. I do have somewhat of an issue with "trendy food". However, he's the trend setter; always presenting the most cutting edge tastes and textures in the pastry world. One of many things I particularly enjoy about his desserts is that they are not overly sweet. He doesn't always add gobs and gobs of sugar. It's nice to see that, especially with the way the world is changing it's eating habits and becoming more health conscious. I'll be the first to admit that I'm a chocoholic and I love my sweets. But after a truly gourmet meal, I hate to ruin my palette with a ton of sugar. I find it's also easier to keep with the ideas of sustainability if you cut out white sugar. Again, I love my sweets and Dixie Crystals won't be getting thrown out of this house anytime soon, but it's a refreshing approach to the vast and eclectic world of pastries.
On the flip side of that, he does use some interesting things in his recipes. For example, Coco Puffs and candied rose petals. He'll take super sweet things and pair them with chiles and cinnamon. He plays with spicy and savory vs sugary and sweet. He also experiments with a variety of textures. He's not afraid to try new things and think outside the box. And that is what makes you a trend setter in this industry.
I hope I have the gumption to achieve the things he has. It just goes to show that playing with your food can really get you ahead of the game. Play with your food and think outside the box!